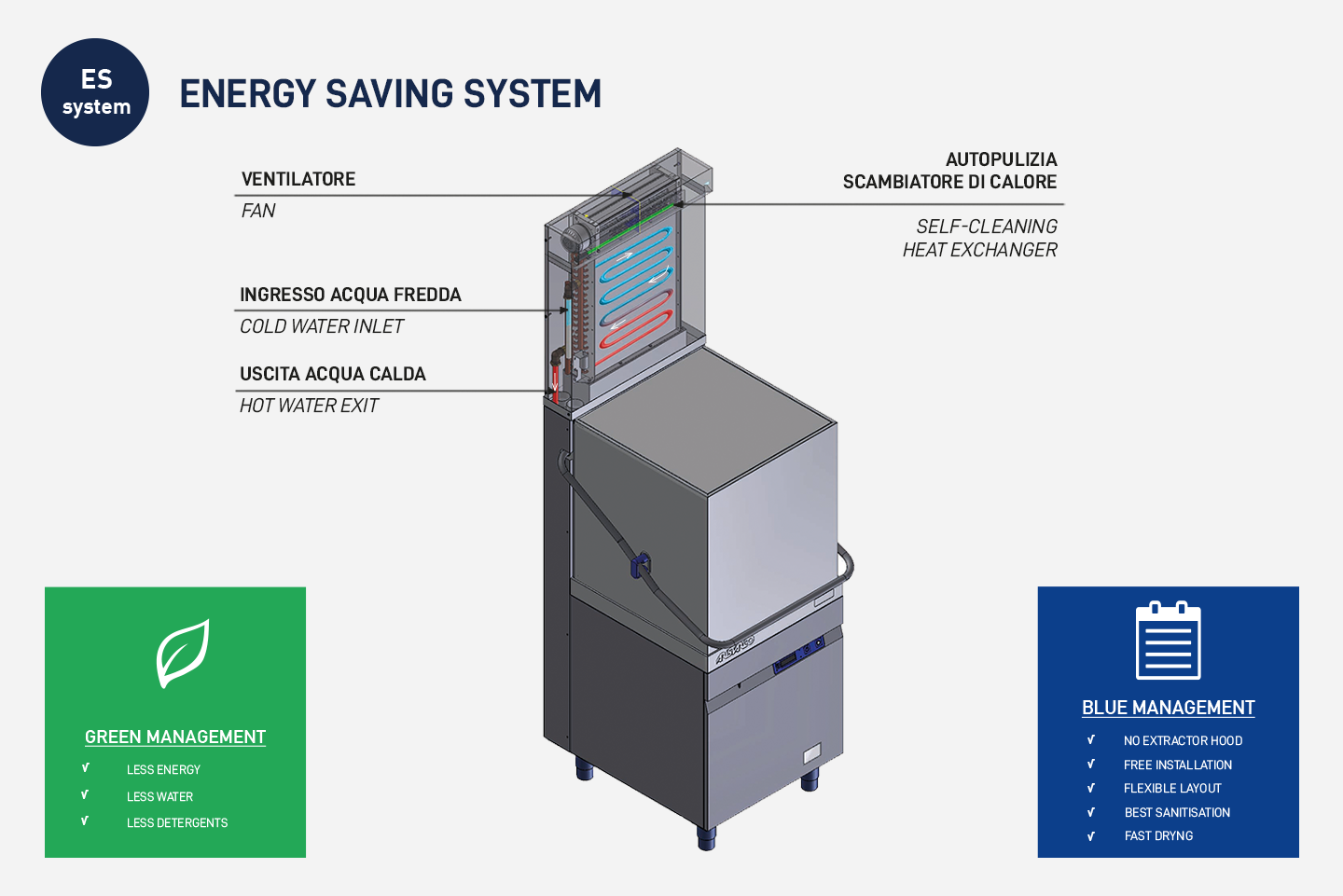 23.10.2020
ES – Energy Saving system
Saving energy is important to protect the environment around us and economize the costs.
SAVING ENERGY IS IMPORTANT WITH RESPECT TO THE ENVIRONMENT
AND IN ORDER TO ECONOMISE COSTS
In the Energy Saving System, a tangential fan recycles the hot steam generated during the wash and rinse phases, making it pass through a highly efficient heat exchanger, with cold water circulating inside, provided by the water supply. This heat exchanger is fitted with
an end-of-day auto-clean system which enables the degreasing of the battery
granting ongoing efficiency.
The electronic controls make it possible
to select between the ES mode and the ES+ mode so as to maximise energy saving and reduce steam emission to zero.
In all Aristarco models the ES system also incorporates the PRS system (atmospheric boiler + break tank).
Technical advantages of the ES System:
1. The cold water supplied is pre-heated and is introduced into the boiler at a temperature of approximately 45°C;
2. The steam produced within the machine is used to heat the cold water supplied by the network.
Benefits of using the ES System:
1. Save 50% in power expenses during the heating phase of the rinse water allowing immediate money saving;
2. No need to fix an exhaust fan in the wash area, plus the assurance of:
a. Quick and easy installation;
b. Layout flexibility in the wash area;
c. Cut in investment costs;
3. Avoid annoying emissions of steam
with detergents in the work area and consequently an improvement in work conditions for workers;
4. Fast drying dishes